History suggests that the founder of Tibetan (also known as Vajrayana) passed away in the town of Hajo. Nagarjuna, another significant leader of Mahayana Buddhism is said to have built a Caitya (Memorial) around the first or second century AD. Later in the 3rd or 4th century this Caitya was believed by some scholars to transform into a Hindu temple. The Hayagriva-Madhava shrine in Hajo is considered as a holy place of pilgrimage.
However, there are beliefs by some scholars that there is no evidence of Buddhism found during the reign of Kumar Bhaskarvarman. Contradictorily, some other believes that Huen Tsang saw practising Buddhism in secret. Interestingly, Bhaskarvarman took part in a significant Buddhist gathering in Kanuaj with Tsang King.
Naharkatia, Margherita, Titabor and Silonijan are the significant places of Buddhist monasteries in Assam and those who wish to see the significant Buddhist monasteries can stay in different communities there and experience it for a lifetime.The best time to visit these locations are during Buddha Purnima,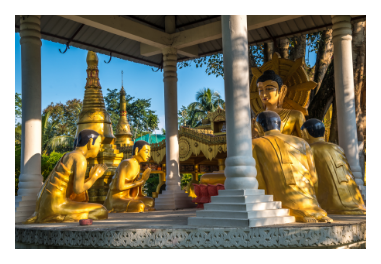 The Kathin Chibar Dan festival, or the mid-April Poi-chang-ken and Maiko-chung-fai festivals (mid-January).The existence of Buddhism can be dated back to the 3rd century BC with the famous Stupas of Suryapahar in Goalpara district giving a clear impression. Assam also has several Buddhist communities of her own, most of them belonging to the Tai group. Buddhism in Assam survive in its Theravada form because of the presence of communities like the Tai-Phakes, Tai-Atons, Tai-Khamyang,Tai-Khamptis and Tai-Turungs, Tai-Singphos, Tai-Chakmas and the Chittagong Baruas. They are spread across several districts in upper Assam. Their monasteries attract a large number of visitors and tourists from Thailand, Myanmar and other Southeast Asian countries.
The oldest monastery of Assam is the Tai Phake Buddhist monastery and is one of the nerve centres of all religious activities. This monastery is located in Namphake village, 37kms away from Dibrugarh district. Due to its unique natural setting and serene atmosphere, this monastery is also regarded as a meditation centre. There are around 150 Tai-Phake families in Namphake village preserving their unique identity, customs and traditions. Head towards this pristine destination and make memories of lifetime.